Cong Rejects Assertion Of Linkages With Koda
Unperturbed by reports that the seized diaries of former Jharkhand Chief Minister Madhu Koda contained names of Congress leaders, the party on Monday  said it rejected any assertion of linkages with him.  "We reject the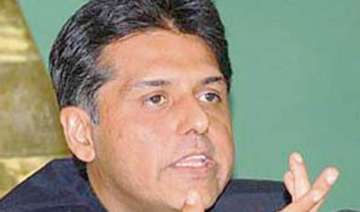 PTI
November 16, 2009 20:36 IST
Unperturbed by reports that the seized diaries of former Jharkhand Chief Minister Madhu Koda contained names of Congress leaders, the party on Monday  said it rejected any assertion of linkages with him. 
"We reject the assertion on linkages," AICC spokesman Manish Tewari told reporters when asked if the seized diaries contained names of the sympathisers of the party.
"It is a matter being investigated. It is not my job to second guess any investigation. The law of the land is for everybody to follow," he said, adding that the Supreme Court has made its stand clear on diaries in the Jain Hawala case. 
The apex court acquitted many politicians named in the Jain Hawala case in 1997 and 1998, partly because the hawala records (including diaries) were judged in court to be inadequate as the main evidence. 
Asked about Koda's statement that he would come out with the names of persons in the Congress party who were trying to fix him in the money laundering case, Tewari said the former CM was being interrogated by the authorities and that is the "appropriate forum for him to reveal". 
He at the same time added that what Koda is saying "is the natural reaction" of anybody who is being investigated to intimidate the investigating agencies. 
Asked why Congress did not withdraw support from the Koda government even as the then AICC in-charge of the state Ajay Maken had flagged the state government as corrupted and recommended his removal, the spokesman said, "at various points, various people make an assessment, but political call is taken after overall assessment". 
Tewari also said the investigation against Koda has begun under a UPA dispensation after which there was no need for any further explanation. 
To a query whether the muck on Koda would smear the face of Congress as it extended support to his government for almost two years, Tewari replied in the negative maintaining that the party supported the government from outside and was not a participant it. 
"We extend support to any party on the premise that it will work for the people, bring development with transparency. If somebody betrays the mandate, the law of the land will take its own course and that is what has exactly happened to the former CM". 
To a volley of questions on removal of Maken, who had been seeking the removal of Koda as the CM, Tewari explained that Maken was divested of the charge as he had to fight the Lok Sabha elections.
Explaining the party's support for almost two years to Koda government, Tewari said the party then must have thought he should be given more time for political stability, adding, "it was not a decision which can be termed inappropriate in that context". 
Asked about BJP's assertion that Congress should come clean on the Koda episode, the spokesman said, "BJP has no credentials to speak on corruption. Their coalition for six years speaks for itself". 
Tewari also cautioned against a parallel media trial on the issue saying everything will be clear once investigations are complete. PTI