Congress Begins Jail Bharo Stir Against MP Govt
Bhopal, Jan 9: Several thousand Congress supporters today courted arrest  as part of Jail Bharo movement against the BJP government in Madhya Pradesh. Led by state Congress chief Kantilal Bhuria, the protesters demanded timely supply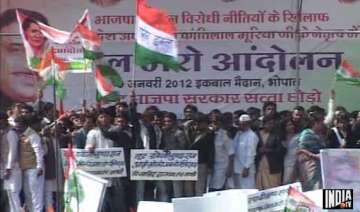 India TV News Desk
January 09, 2012 17:37 IST
Bhopal, Jan 9: Several thousand Congress supporters today courted arrest  as part of Jail Bharo movement against the BJP government in Madhya Pradesh.

Led by state Congress chief Kantilal Bhuria, the protesters demanded timely supply of fertilizers, water and power.

The protesters gathered at Iqbal Maidan and wanted to go to the chief minister's residence, but were stopped by police.

They were arrested at Kamla Park, which was converted into a temporary jail.

Laxmikant Sharma, state government spokesman said the Congress had no issue worth the name, and was agitating in a directionless manner.