Congress, BJP locked in tug-of-war over Ambedkar legacy
New Delhi: Even as Congress has announced plans to hold year-long celebrations to commemorate the 125th birth anniversary of BR Ambedkar, Prime Minister Narendra Modi is expected to lay the foundation stone for the 'Ambedkar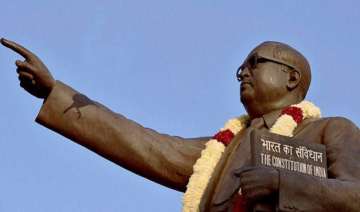 PTI
April 12, 2015 12:49 IST
New Delhi: Even as Congress has announced plans to hold year-long celebrations to commemorate the 125th birth anniversary of BR Ambedkar, Prime Minister Narendra Modi is expected to lay the foundation stone for the 'Ambedkar International Centre' here, the legacy of the Dalit icon becoming the focus of a contest between the rival parties.
While BJP, which has made considerable inroads into the Dalit vote-bank in the last Lok Sabha polls, hopes to consolidate its gains, Congress is looking to reach out to its old, core base of Dalits, latching on to the symbol of the Dalit icon as it battles to come out of the morass following its worst-ever debacle in parliamentary elections.
The Congress's move came amidst a realisation within that BJP was trying to "appropriate" the legacies of icons who were either ignored or perceived to have been ignored by the party.
The Prime Minister was present last week as an agreement was signed between the Union Textiles Ministry, Maharashtra government and the National Textile Corporation for transfer of 12 acres of land adjacent to the Chaityabhoomi in the Indu Mills Compound in Mumbai to facilitate the construction of a memorial to Ambedkar at the spot where his last rites were performed.
Meanwhile, sources in the Ministry of Social Justice and Empowerment, which is undertaking the setting up of the Ambedkar International Centre (AIC), said that the project named after the architect of the Indian constitution is coming up at a cost of Rs 192 crore.
"AIC would be established at Janpath in New Delhi. The National Building Construction Corporation, functioning under the Urban Development Ministry, would be the executing agency for the project," the sources said, adding that Modi is likely to lay the foundation stone for AIC on April 20.
The last Lok Sabha polls saw caste barriers breaking in key north Indian states like Uttar Pradesh and Bihar, where a sizeable sections of Dalits voted for BJP.
In UP, the shift of Dalit votes towards BJP served as a warning call for Congress as it found that it had failed to win support among Dalit voters despite Rahul Gandhi's visits and dining at their homes.