Congress blames Chhattisgarh govt for Darbha naxal attack
Raipur, Jul 16: Chhattisgarh Assembly yesterday paid tributes to the pilgrims perished in rain-ravaged Uttarakhand and Congress leaders killed by Maoists in Darbha massacre, amid uproar by the opposition members.Congress members raised their voice even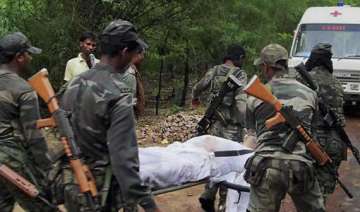 PTI
September 28, 2013 17:12 IST
Raipur, Jul 16
: Chhattisgarh Assembly yesterday paid tributes to the pilgrims perished in rain-ravaged Uttarakhand and Congress leaders killed by Maoists in Darbha massacre, amid uproar by the opposition members.
Congress members raised their voice even as obituary references were read out by their leaders, alleging that Raman Singh government failed to provide security to the Congress cavalcade that was attacked by naxals on May 25 in Bastar, killing 29 persons, including top state leaders.
As the House assembled on the opening day of the monsoon session, Speaker Dharamlal Kaushik mentioned about the killings of state unit Congress chief Nand Kumar Patel, former union minister Vidyacharan Shukla, former leader of opposition Mahendra Karma, ex-MLA Uday Mudliyar among others in the Maoist ambush and those perished in Uttarakhand catastrophe.
Chief Minister Raman Singh termed the carnage as the "cowardly act against democracy and the saddest incident in my political tenure".
"BJP's vikas yatra and Congress' parivartan yatra were getting good response in Bastar because of which Maoists felt threatened," Singh said.
Expressing his condolence, the Leader of Opposition Ravindra Choubey alleged that the state government was responsible for the death of senior Congress leaders in Bastar.
"In spite of having clues about the movement of naxals in the region, no security measures were followed," he said.
Echoing him, former chief minister Ajit Jogi and other MLAs also blamed the state government for its "failure" in providing security to the Congress convoy.
The Speaker had to intervene many times, saying that the occasion is meant for paying tribute to the deceased leaders.
The House later observed a two-minute silence after which the Speaker adjourned it for the day.
Talking to reporters in the Vidha Sabha premises later, Choubey alleged that the ruling BJP government "killed" the Congress leaders by not providing adequate security to the parivartan yatra.
"We will stall proceedings of the House and oppose the ruling government. Our party members will wear black dress to protest against the state government which is responsible for the death of top party leaders on Tuesday," Choubey said.
The four-day long session, with total five sittings, will conclude on July 19 and is perhaps the last session of the Assembly before the state goes to polls by year-end.