Congress flays BJP govt on suggestion to cut in Food Security Act coverage
New Delhi: An official committee's report recommending a drastic cut in the coverage of the ambitious Food Security Act today gave fodder to Congress to attack government as "anti-poor" saying the move would hit hard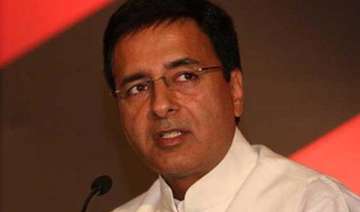 PTI
January 24, 2015 19:26 IST
New Delhi: An official committee's report recommending a drastic cut in the coverage of the ambitious Food Security Act today gave fodder to Congress to attack government as "anti-poor" saying the move would hit hard the common man.
Party spokesman Randeep Surjewala alleged the Shanta Kumar Committee's report indicates that government is now proposing to "cruelly deprive 2/3rd Indians of their 'Right to Food' guaranteed to them by the previous Congress government".
Congress accused the BJP government of attempting to "kill" the purpose and intent as also "the soul and spirit" of Food Security Act by reducing the number of eligible beneficiaries from 67 per cent to 40 per cent.
He said remarks of the Chairman of Committee and senior BJP leader Shanta Kumar to the effect that Congress had enacted a 'Vote Security Bill' and not a 'Food Security Bill' "is a crude attempt to make a mockery" of crores of toiling poor of India by Bhartiya Janata Party.
"This is the worst case of political opportunism and concerted and premeditated deceit of the common man by BJP and Prime Minister," the party said.
"What is more shocking is the statement by Shri Shanta Kumar stating that BJP did not oppose the Food Security Bill of UPA in 2013 as it feared an adverse reaction during the parliamentary polls", Surjewala told reporters.
"Such a destructive, deceitful and anti-poor hidden agenda could only be expected of BJP." he alleged.
Noting that the 'Food Security Act' has been implemented only by nine states and two union territories, he wanted the Prime Minister to give a deadline for implementation of the Act across all states.
"What is the long-term policy of Modi and BJP government qua guaranting food security to crores of countrymen? Whether they are preparing a devious design to abrogate this statutory right and principal responsibility of the government to fight hunger in the garb of reduction of subsidy?", he asked posing a number of questions.