Congress high command to decide about party's role in JK
Jammu: In view of the emerging political situation in Jammu and Kashmir, the state unit of Congress today asked the party high command to take a decision on its role in the state."The MLA elect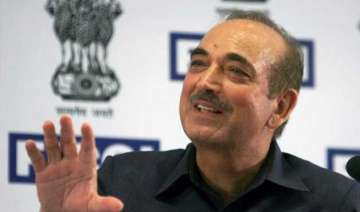 PTI
January 15, 2015 23:35 IST
Jammu: In view of the emerging political situation in Jammu and Kashmir, the state unit of Congress today asked the party high command to take a decision on its role in the state.
"The MLA elect of the party met in Jammu today to discuss the prevailing political situation in the state," a party spokesman said.
He said that it was unanimously resolved in the meeting that the party high command would take a decision on the party's role in the emerging situation in the state.
The party high command would also rein in "loose cannons" in the party "who by their uncalled for and unwarranted public statements create dissension and indiscipline in the party", he said.
"Leader of Opposition in Rajya Sabha Ghulam Nabi Azad has already conveyed his displeasure and annoyance with such acts of indiscipline," the spokesman added.