Congress hits out at BJP over AIIMS issue, holds dharna in Jammu
Jammu: The Congress today held a protest outside Raj Bhavan here, hitting out at the BJP-led Central government for "denying" Jammu region an AIIMS and sanctioning the premier medical institute only for the Valley.  Led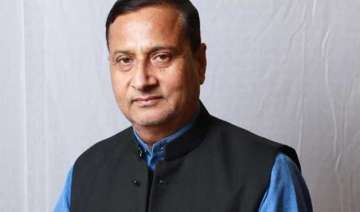 PTI
April 13, 2015 16:22 IST
Jammu: The Congress today held a protest outside Raj Bhavan here, hitting out at the BJP-led Central government for "denying" Jammu region an AIIMS and sanctioning the premier medical institute only for the Valley.  
Led by Congress state senior Vice-President and former Minister Sham Lal Sharma and Congress Legislative Party Leader Nawang Rigzin Jora, over 200-300 workers and leaders sat on a dharna in front of Raj Bhavan here.
They shouted anti-BJP and anti-government slogans over "denial" of AIIMS to Jammu region by BJP-led Central government and PDP-led state government and termed the saffron party as "traitor" of Jammu region.
Hitting out at BJP-led Central government, he charged Minister of State in PMO Dr Jitendra Singh for "misleading" and "deceiving" the people of Jammu on the issue.  "He was on record having announced that AIIMS has been sanctioned for Jammu. Soon after Union Finance Minister finished his speech in Lok Sabha, Dr Singh walked up to his seat and thanked him for having sanctioned an AIIMS for Jammu and IIT and IIM for J&K in the budget," Sharma alleged.  
"People of the region feel cheated of the reversal of the said decision and denial of the facility to Jammu region which could have benefited people of neighbouring states and over one crore pilgrims and people visiting the state annually," he said.
"We are not against the Kashmir region for grant of AIIMS, but we want that Jammu should also be given an AIIMS because it has a large population from various areas of the region particularly Kashmir and Ladakh besides over one crore pilgrims and tourists during the winter season," he said.  
"It is worthwhile to mention that keeping in view the peculiar circumstances in this state, the then Congress-led government took a major decision and announced two separate Central Universities- one for each region, keeping aside all norms in the matter," he said, adding, the Centre should grant AIIMS to Jammu on the same pattern.
Sharma said Congress has exposed the "double standards" of the BJP government at the Centre and PDP-BJP government in the state for their "discriminatory" treatment towards the people of Jammu.
He said that Congress has approached the Governor for seeking justice for the people of Jammu region on the issue of setting up AIIMS.
"We have impressed upon the Central government to immediately fulfil its commitment...otherwise Congress party would intensify its struggle to present the voice of people and secure justice for them by all democratic means.  
"BJP had emotionally exploited Hindus of Jammu for last 60 years...now they have surrendered everything and subletted people of Jammu region to PDP for lust of power," he said.  Congress leader Jora also charged the BJP with "back-tracking" on all the issues including Article 370 and the of refugees.
Charging that the BJP has betrayed the people of Jammu region, he said, the party has "sold the people of Jammu for coming to power and have dumped their issues".  Later, Congress leaders including Sharma, Jora, former minister and vice president of Congress Mula Ram besides Congress Chief Spokesman Ravinder Sharma presented a memorandum to the Secretary of Governor N N Vohra over the issue.