Congress, JD(U), NCP flay Owaisi's remarks
New Delhi: Congress, NCP and Janata Dal(U) today criticized AIMIM leader Asaduddin Owaisi's controversial remark that every child is born a Muslim and said he and Hindu hardliners "are two sides of the same coin."Congress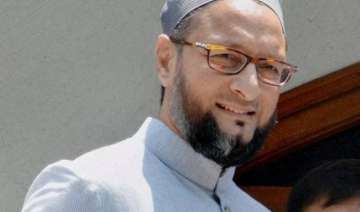 PTI
January 05, 2015 22:43 IST
New Delhi: Congress, NCP and Janata Dal(U) today criticized AIMIM leader Asaduddin Owaisi's controversial remark that every child is born a Muslim and said he and Hindu hardliners "are two sides of the same coin."
Congress suggested proponents and opponents of "ghar wapsi" programme should be "locked in a room".
Party spokesman Randeep Surjewala said that leaders of AIMIM and RSS who have conflicting ideologies should be locked in a room.
His remarks came at the party briefing when asked about his reaction to AIMIM leader Asaduddin Owaisi's controversial remark that every child is born a Muslim. Owaisi has locked horns with right-wing Hindu outfits over their 'ghar wapsi' programme.
"Every child is born a Muslim. His parents and society convert him to other religions," Owaisi said, in Hyderabad apparently in a tit-for-tat to hardline Hindu organisations which have been claiming that ancestors of all Indians were Hindus.
"Islam is the real home of all religions. There is no forced conversion in Islam. It is you who need to come home but we can't give you money for that," the Hyderabad MP said on Saturday night on the eve of Eid Milad Un-Nabi, the birth anniversary of Prophet Mohammed.
Owaisi's statement drew strong reactions from senior NCP leader and Rajya Sabha member Majeed Memon who called it a "stunt" to get votes.
"It is a stunt by Owaisi for vote-catching. Everybody has the right to follow his religion and convert to other religion if he wants to. What Owaisi has said is not right," he said.  JD(U) spokesman K C Tyagi described the All India Majlis-e-Ittehadul Muslimeen leader as a "Muslim edition" of RSS Chief Mohan Bhagwat and VHP leader Praveen Togadia.  
JD(U) Rajya Sabha member Ali Anwar termed the hardliners and Owaisi as "two sides of the same coin who complement each other and find sustenance from each other".  "Such activities harm the nation," he said.  As his comments triggered a row, Owaisi said it is a part of his "belief system" that Islam is the real home of all religions.
"It was a public speech. It was a celebration of Prophet Mohammad. I said these things in a 90-minute speech. It is our belief system.
"In a democracy, I have the permission to put forth my views. You are free to disagree. I am not pushing it down somebody's throat," he said.