Congress leaders demand Saif-ud-din Soz's resignation over J&K poll debacle
Jammu: In what could be seen as signs of rebellion within Congress' state unit, some party leaders have sought the resignation of Jammu and Kashmir Congress president Prof Saif-ud-din Soz on grounds of party's drubbing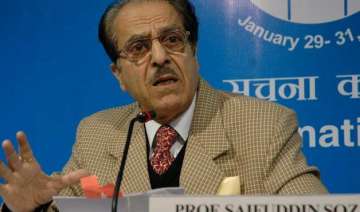 PTI
January 12, 2015 19:22 IST
Jammu: In what could be seen as signs of rebellion within Congress' state unit, some party leaders have sought the resignation of Jammu and Kashmir Congress president Prof Saif-ud-din Soz on grounds of party's drubbing in the recently-concluded Assembly elections.  A joint statement, issued by some Congress leaders and former ministers led by JKPCC vice president Janak Raj Gupta, reads that Soz should have owned moral responsibility for the party's drubbing in the Assembly polls and resigned from his post.
They believe that Soz's resignation will pave way for a new state Congress chief who will be able to revive and strengthen the party unit in the state.
Among the 21 leaders, who attended the meeting where the joint statement was issued asking Soz to step down, are former Ministers Abdul Gani Vakil, Prem Sagar Aziz, Dr Manohar K Lal, Yogesh Swahaney, Dr Ramesh Sharma, Haji Nisar Ali.  This faction of party leaders, supposed to be close to former J&K Chief Minister Ghulam Nabi Azad, also criticised Soz for setting up two committees in the state for starting membership drive and demanded its dissolution.  They said that instead of setting up these committees the leadership should have identified reasons for the party's poll debacle.