Congress MP demands probe into Vadra-DLF deal
New Delhi: In an embarrassment to Congress, a party MP from Gurgaon yesterday demanded an inquiry into change of land use from agriculture to commercial or residential in the Haryana city and said anybody who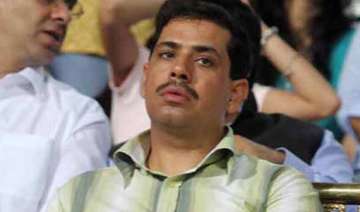 PTI
August 13, 2013 8:21 IST
New Delhi
: In an embarrassment to Congress, a party MP from Gurgaon yesterday demanded an inquiry into change of land use from agriculture to commercial or residential in the Haryana city and said anybody who has made money illegally, even if it is Robert Vadra, should he held accountable.
"I feel the administration has not functioned the way it ought to have.... I'm not in the business of prosecuting Robert Vadra... I'm in the business of seeing that land in my constituency if anybody has made money illegally, they should all be held accountable and if that includes Robert Vadra, he should be held accountable as well," party MP Rao Inderjit Singh said.
He was replying to queries on alleged irregularities in Robert Vadra-DLF land deals and the report of whistleblower IAS officer Ashok Khemka.
Later, the MP told reporters that "if an inquiry happens, it will be clear which people from which party are involved in it or not".
He also demanded that the inquiry should not be in just the "four acres" under the Vadra-DLF deals but should also include the 1200 acres which has been released by Haryana government.
Singh said if anybody asked a resident of Gurgaon about land issue, "what comes to his mind is that people from many regions have settled there under doubtful dealings.
"If an inquiry happens, it will be clear which people from which party are involved in it or not. I believe that whenever there is a talk about the change of land use, scam, immoral amassing of wealth, the role of everybody should be probed and not only that of one individual, who is son-in-law of Congress President Sonia Gandhi," Singh said.
"I, being a resident of Gurgaon, only want to say that much that 21,000 acres of land was changed from the agricultural land as SEZ in the last five-six years.... Land was given to Reliance for SEZ.
"....So I want the truth to come out ..1200 acre of land was released after 2004 and 2006, this should also be inquired," he said.
Congress was quick to downplay Singh's remarks with party spokesperson Renuka Chowdhary saying that the MP has already clarified that he had not said what was being interpreted in media.
The party asserted there is "nothing dirty for us to come clean" on in the Vadra-DLF land deal issue and left it to its government in Haryana to decide the matter. 
At the same time, Congress made it clear that there was "no parallel" between the cases of suspended IAS officer Durga Shakti Nagpal of Uttar Pradesh, who was allegedly targeted for taking on sandmining mafia, and Khemka, who has raised the issue of Vadra's land deals.
"Was Khemka suspended? Khemka was transferred because of an internal process. There is no parallel between the situations. He was not suspended and he went on and on on the television channels," Chowdhary said at the AICC briefing, said adding that what had happened to Khemka was a "general transfer".
On the controversy, she said, "there is nothing dirty for us to come clean....The competent authority, the committee set up by the state has already said so."
To a question whether Congress wants the inquiry by the Haryana government to be speeded up, she merely said, "there is a process."
Chowdhary advocated to "keep a little patience" over the matter wondering whether the media wanted the AICC to dictate terms to the state government in the matter even when a probe is already on.
"Let the state government complete it," she said.
Speaking separately, Singh earlier noted that Khemka's report is being raised in media and Parliament and hence "who can say that he is not influenced by politics?.
He, however, raised the issue of change of land use in the party-ruled state.
"I only know that in Gurgaon there is a perception that lot of land has changed from agriculture to either commercial or residential etc.... The perception is that various big wigs from all over the country from various parties, have had a hand in the development and the licences that have been approved over the past seven eight years for various builders."
To a specific question on whether Vadra was given land in contrivance to rules, the MP said, "I cannot say unless that is seen in detail. But this question definately comes to my mind that if Robert Vadra has done anything wrong or whether it is being shown that he supported any attempt towards a wrong. Then why only his name is being raised?"
"There are many other leaders whose relatives are also involved. Why there is no discussion about them and whenever there is any problem, the matters related to other are ignored by taking his name."
He said, "Everytime the Hooda government is in some kind of difficulty, the Vadra case comes up. So my main contention is if there has to be any kind of enquiry as has been asked by everybody, it should not include only this four acres but should also include the 1200 acres which has been released...."