Congress MP slams Shinde for downplaying Vidarbha issue
Nagpur, Aug 4: Local Congress MP Vilas Muttemwar, who is a votary of separate state of Vidarbha, has accused the Union Home Minister Sushil Kumar Shinde of misleading the country on the issue."Your reported statement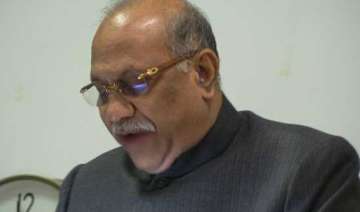 PTI
August 04, 2013 13:17 IST
Nagpur, Aug 4
: Local Congress MP Vilas Muttemwar, who is a votary of separate state of Vidarbha, has accused the Union Home Minister Sushil Kumar Shinde of misleading the country on the issue.
"Your reported statement that Telangana's case was considered because it was older and more deserving than Vidarbha is not based on historical facts and evidence. It has hurt feelings of people of Vidarbha," Muttemwar wrote in a scathing letter to Shinde.
The letter, released to media here, traces the history going back 125 years, to support the issue of statehood for Vidarbha. "Either your officials have kept you in the dark or you have chosen deliberately to ignore the solid documentary evidence that show that the demand for Vidarbha state was much older and more rooted," Muttemwar said.
Justice Fazal Ali state reorganisation committee, set up in 1953, had said that Vidarbha's case was fit for statehood with surplus and stable revenue, Muttemwar claims. 
"The committee went further to caution against succumbing to pressure to be part of united Maharashtra," the letter notes. 
Further criticising Shinde, the Congress MP says: "You have for years served in important Ministerial positions and also as Chief Minister of Maharashtra. But it is unfortunate that you did little for the backward region of Vidarbha. 
"Now, when you are in an influential position, instead of trying to make amends and help this region you have again worked against its interests by not taking up the cause of Vidarbha statehood with the Congress president," said the letter.