Congress pitting Telangana against Seemandhra: Modi
Hyderabad, Aug 12: Gujarat Chief Minister Narendra Modi has accused the Congress of creating a wedge between the people of Telangana and Seemandhra (Rayalaseema and Andhra) regions of Andhra Pradesh.Addressing a public meeting here, he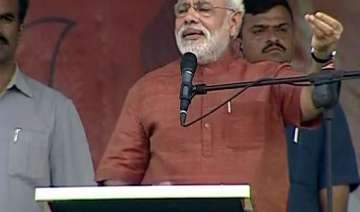 IANS
August 12, 2013 10:04 IST
Hyderabad, Aug 12
: Gujarat Chief Minister Narendra Modi has accused the Congress of creating a wedge between the people of Telangana and Seemandhra (Rayalaseema and Andhra) regions of Andhra Pradesh.
Addressing a public meeting here, he said despite promising a Telangana state in 2004, the Congress failed to build a capital for Seemandhra. He hinted that this was the cause for the ongoing protests in Seemandhra over the decision to carve out a separate state.
Modi appealed to people of both the regions to live peacefully as brothers and not to get provoked despite the Congress 'games'. He accused the Congress of adopting a divide-and-rule policy.
He pointed out that six lakh Telugu-speaking people live in Ahmedabad and another four lakh in Surat.
"If we Gujaratis can live with them as brothers, people of Telangana and Seemandhra can also live with love," said Modi, raising the slogans of 'Jai Telangana' and 'Jai Seemandhra'.
He recalled that when the Vajpayee government carved out separate states out of Madhya Pradesh, Uttar Pradesh and Bihar, there were celebrations in all regions.
The BJP leader said that while promising a Teangana state, the BJP had said it would not ignore Seemandhra at any cost.
"We give equal importance to both the regions. The cities in Seemandhra should be more developed than Hyderabad but Congress has no time for it," he said.
Earlier, he began his address with some Telugu words, lauding the role played by Telugus in the national development. He also hoped that both the regions would recover from the present difficult times.