Congress protests against Giriraj for remarks on Sonia
Chennai: Congress today staged a protest here condemning Union Minister of state Giriraj Singh for his racist jibe against Sonia Gandhi.The minister had kicked up a row with his remarks asking whether Congress would have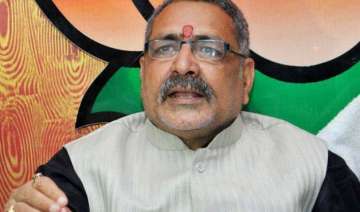 PTI
April 03, 2015 22:00 IST
Chennai: Congress today staged a protest here condemning Union Minister of state Giriraj Singh for his racist jibe against Sonia Gandhi.
The minister had kicked up a row with his remarks asking whether Congress would have accepted Sonia Gandhi's leadership had she not been white-skinned.
Demanding appropriate action against Singh, functionaries of the Tamil Nadu Congress Committee staged a protest here at the busy Choolai Post office junction.  
They condemned him for his remark by raising slogans and blocked the road for some time and tried to burn his effigy.
They were detained by police briefly and later released.