Congress questions funding of Modi's UP rallies
Lucknow: Congress today questioned sources of funding for BJP prime ministerial candidate Narendra Modi's 'vijay shankhnaad' rallies being held in Uttar Pradesh and other parts of the country."BJP which has claimed that it has made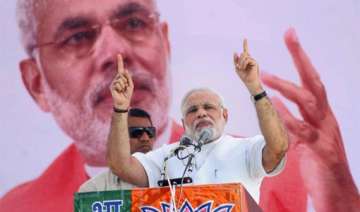 PTI
March 02, 2014 13:43 IST
Lucknow:
Congress today questioned sources of funding for BJP prime ministerial candidate Narendra Modi's 'vijay shankhnaad' rallies being held in Uttar Pradesh and other parts of the country.
"BJP which has claimed that it has made elaborate arrangements, including that of transportation, lodging, food, campaign and other arrangements, must tell that from where these funds are being arranged," senior Congress leader and MLA Akhilesh Pratap Singh, said.
Singh alleged that 29 trains have been arranged for Modi's rally in Lucknow today which would cost around five crore rupees.
"Similarly if arrangement of 5,000 buses, 15,000 jeeps, lodging, food, decoration and other arrangements are taken into account, then the total expenditure comes around Rs 40 crore. BJP must tell from where this fund has been arranged," he said.
"So far eight rallies of Modi have been held in UP and going by the average estimate more than Rs 320 crore had been spent on the rallies in the state itself, then the party must clarify that what is the total amount spent on his rallies across the country," he alleged.