Congress slams Haryana Minister for calling farmers 'cowards'
New Delhi: Opposition Congress today attacked a Haryana Minister for reportedly calling farmers committing suicide "cowards" and sought to know what action the Prime Minister proposed to take."This is a serious issue...A Haryana government minister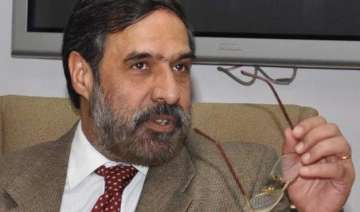 PTI
April 30, 2015 13:58 IST
New Delhi: Opposition Congress today attacked a Haryana Minister for reportedly calling farmers committing suicide "cowards" and sought to know what action the Prime Minister proposed to take.
"This is a serious issue...A Haryana government minister called farmers committing suicides cowards and criminals... Suicides are not just happening in Haryana but all over the country," Anand Sharma (Congress) said during Zero Hour in Rajya Sabha as his submission was opposed by the treasury benches.
Minister of State for Parliamentary Affairs Mukhtar Abbas Naqvi said a state government, its ministers and chief ministers are not discussed in the House and it was not in accordance with rules and procedure.
Deputy Chairman P J Kurien said, "we have no jurisdiction on state governments. I cannot go further on this."
Naresh Agarwal (SP) then raised the issue of government announcing hike in import duty on sugar and other measures to help distressed farmers, outside the House yesterday.
He said the agrarian crisis was discussed for three days in the House and the government did not indicate any steps in the reply to the discussion.
Leader of the Opposition Ghulam Nabi Azad said the debate on agrarian crisis was to solicit government's response on the steps being taken, but subsequent to the reply on the issue, the government announced the decisions outside the House which amounted to breach of privilege.
Food Minister Ram Vilas Paswan said the decisions to raise import duty on sugar from 25 per cent to 40 per cent, scrap excise duty on ethanol made from sugarcane and abolish value cut was taken by the Union Cabinet yesterday morning to help farmers in distress. (more)
The decision was first announced in Lok Sabha in response
to Congress leader Rahul Gandhi raising the issue of farmers distress and media was told about it only after that, he said.
Deputy Chairman P J Kurien said if the announcement was made outside the House before the reply, it would have been a serious issue. But the decisions were of the Cabinet.
When Azad wanted to know if the decisions were informed to Lok Sabha, then why not the Rajya Sabha, Kurien said if the minister has misled the House, there are provisions to take it up.
Kanak Lata Singh (SP) raised the issue of 25 people being killed in a storm and hailstorm in eastern Uttar Pradesh on April 28.
She said houses as well as vegetable, mango and litchi crops have been destroyed in the storm and demanded Rs 10 lakh compensation for those affected.