Congress takes dig at Modi
New Delhi: Congress today took a dig at Prime Minister Narendra Modi saying he had sidelined BJP veteran LK Advani at the just-concluded National Executive meeting as that was the "tactic" he uses."Modi has used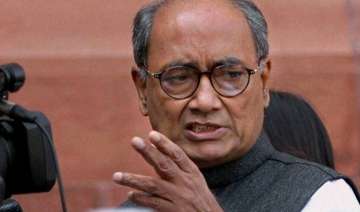 PTI
April 06, 2015 23:03 IST
New Delhi: Congress today took a dig at Prime Minister Narendra Modi saying he had sidelined BJP veteran LK Advani at the just-concluded National Executive meeting as that was the "tactic" he uses.
"Modi has used a tactic in life. Removing the ladder which has helped him to climb up", remarked party general secretary Digvijay Singh at an AICC briefing here.  
BJP's national executive meeting wrapped up last week in Bengaluru with party patriarch Advani skipping the "marg darshan" speech in what was a departure from a 35-year-old tradition. Reports also were there that the leadership wanted to vet Advani's speech.
Murli Manohar Joshi and Advani were dropped from BJP's parliamentary board in August last year and made part of a 'Marg Darshak Mandal', which has barely played any role in the party so far.