Congress targets AAP over Bhushan's comments
New Delhi: Upping the ante against the Aam Aadmi Party (AAP), Congress today said the claim of party founder-member Shanti Bhushan that "everything is not right" in AAP and that ticket distribution for Delhi Assembly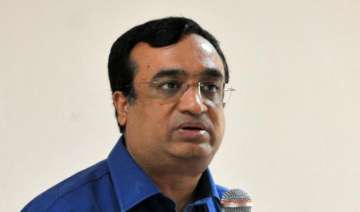 PTI
January 22, 2015 23:08 IST
New Delhi: Upping the ante against the Aam Aadmi Party (AAP), Congress today said the claim of party founder-member Shanti Bhushan that "everything is not right" in AAP and that ticket distribution for Delhi Assembly polls was faulty was a "telling comment".
Party General Secretary Ajay Maken told reporters that it was unfortunate that AAP which was formed to fight corruption was witnessing "sale of tickets".
He, however, steered clear of Bhushan's demand that party convenor Arvind Kejriwal should be removed.
"It is their internal party matter," Maken said.
The Congress leaders statement came close on the heels of Bhushan creating a flutter by praising Kiran Bedi and calling BJP's move to field her as a "masterstroke".