Congress to release third list today, candidates for Delhi, Varanasi to be announced
New Delhi: The Congress is expected to release its third list of candidates for the Lok Sabha elections today.The party will announce all its seven candidates from Delhi, and will select the candidate who will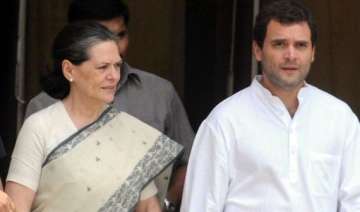 India TV News Desk
March 18, 2014 8:57 IST
New Delhi:
The Congress is expected to release its third list of candidates for the Lok Sabha elections today.
The party will announce all its seven candidates from Delhi, and will select the candidate who will take on Narendra Modi in Varanasi..
So far, the Congress has announced the names of 265 candidates, and 70 more candidates are expected to figure in today's list.
Congress is in a conundrum about selecting its candidate for Varanasi. It earlier opted for former MLA Ajay Rai, but his stature is nothing compared to that of Modi's.
Former MP Rajesh Mishra is also in the race from Varanasi, but the party high command wants a fresh face.
For Delhi, the Congress leadership wants to change at least two sitting MPs, but new 'winnable' candidates are yet to be found.
The party has almost decided to field Ajay Maken from New Delhi, J P Agrawal from Northeast Delhi, Sandip Dikshit from East Delhi and Law Minister Kapil Sibal from Chandni Chowk. Three seats still remain to be filled up.
With Information & Broadcasting Minister Manish Tewary expressing his inability to contest from Ludhiana, the hunt is on to find a substitute.
Finance Minister P Chidambaram is also unwilling to contest from Sivaganga, from where he won last time after a recount.
A major battle is going on between Uttarakhand Congress leaders for all the five LS constituencies