Congress unhappy with Ramesh for 'Duryodhan' remarks against Modi
New Delhi: Congress today expressed displeasure over the remarks of Jairam Ramesh, one of its leaders and former Union Minister, likening Prime Minister Narendra Modi to 'Duryodhan' of Mahabharata."Congress has on more than one occasion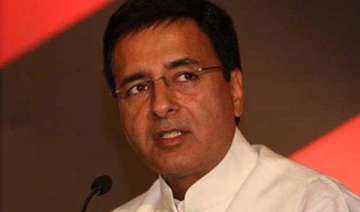 PTI
April 07, 2015 22:45 IST
New Delhi: Congress today expressed displeasure over the remarks of Jairam Ramesh, one of its leaders and former Union Minister, likening Prime Minister Narendra Modi to 'Duryodhan' of Mahabharata.
"Congress has on more than one occasion advised and requested its workers and leaders to grant respect to our worst opponents," party's communication department in charge Randeep Surjewala told reporters here.
"Political differences apart, treat all our opponents with great respect. This is the tradition of the party," he added.
His reaction was sought over the remarks of Ramesh that "Prime Minister Narendra Modi is behaving like 'Duryodhan' of Mahabharat and ready to sacrifice interest of farmers and tribals to appease the corporates which invested in the public issue (Modi) during elections. Investors now want dividends in the form of land."