Congress woos Krishna ahead of Lok Sabha bypolls
Bangalore, Aug 8: Karnataka's ruling Congress Thursday succeeded in winning over former chief minister S.M. Krishna to campaign for the party in the Aug 21 byelection in Lok Sabha seats in the state.Krishna had been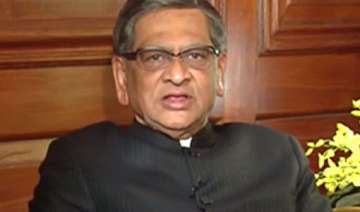 IANS
August 08, 2013 19:26 IST
Bangalore, Aug 8:
Karnataka's ruling Congress Thursday succeeded in winning over former chief minister S.M. Krishna to campaign for the party in the Aug 21 byelection in Lok Sabha seats in the state.
Krishna had been staying away from Congress activities as he was reportedly upset over being ignored in the selection of candidates for the May 5 assembly elections which brought the party to power.
"The bypolls are crucial and every Congress member has to work to ensure the party wins. I will do whatever little I can," Krishna told the media here after Congress general secretary Digvijaya Singh met him to persuade him campaign for the party.
The bypolls are being held for Bangalore Rural and Mandya Lok Sabha seats. The vote count is due Aug 24. Mandya, about 80 km from Bangalore, is Krishna's home district.
It is also the home district of popular Kannada film actor and Housing Minister M.H. Ambareesh.
Krishna and Ambareesh had not been getting along well as the actor had succeeded in sidelining supporters of the veteran Congress leader during the assembly elections.
The two constituencies are considered stronghold of the Janata Dal-Secular whose candidates H.D. Kumaraswamy and N. Cheluvarayaswamy had won the seats in the 2009 Lok Sabha election.
The two quit the Lok Sabha after winning the May assembly election, necessitating the bypolls.
Both constituencies will see straight fights between the Congress and JD-S as the Bharatiya Janata Party withdrew its nominees on the ground that it does not want to split the anti-Congress votes.
In Bangalore Rural, Kumaraswamy's wife Anita is pitted against Congress candidate D.K. Suresh, brother of Congress legislator and former minister D.K. Shivakumar.
Kumaraswamy is the son of former prime minister and JD-S president H.D. Deve Gowda.
Popular Kannada actress Ramya is taking on former JD-S legislator C. S. Puttaraju in Mandya.
The BJP's decision to withdraw its candidates is seen by the Congress as an outcome of a "partnership" with the JD-S.
In return, the JD-S is not fielding candidates for the Aug 22 bypolls to three legislative council seats.
"We will work to defeat the unholy partnership of JD-S and BJP in the two constituencies," Digvijaya Singh told reporters.
Singh, who is in-charge of the Congress in Karnataka, formally launched the party's campaign for the Lok Sahba bypolls with a public meeting on Bangalore's outskirts Wednesday.