Council polls: Sena candidate withdraws from race
Mumbai: Shiv Sena candidate Rahul Narvekar today withdrew from the biennial Legislative Council elections in Maharashtra, paving way for the rest of the candidates to be elected unopposed.Narvekar visited the election office at Vidhan Bhavan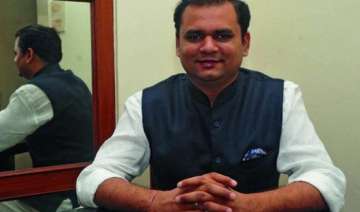 PTI
March 13, 2014 16:51 IST
Mumbai:
Shiv Sena candidate Rahul Narvekar today withdrew from the biennial Legislative Council elections in Maharashtra, paving way for the rest of the candidates to be elected unopposed.
Narvekar visited the election office at Vidhan Bhavan and gave the letter of withdrawal of his candidature.  
Today is the last day for withdrawal of nominations.  
The election for the nine seats of the Upper House of the state Legislature is scheduled to be held on March 20.
Chandrakant Suryavanshi, Haribhau Rathod and Shivajirao Deshmukh (Congress), Anand Thakur, Kiran Pawaskar and Hemant Takle (NCP), Vinod Tawde and Pandurang Phundkar (BJP) and Neelam Gorhe (Shiv Sena) are all now set to be elected unopposed.