CPI (ML) Condemns Centre's Offensive Against Maoists
The five-day conference of CPI(ML) on Thursday  concluded in Bhopal condemning the Centre's offensive in different parts of the country against Maoists.  The conference alleged that UPA regime under a conspiracy was trying to crush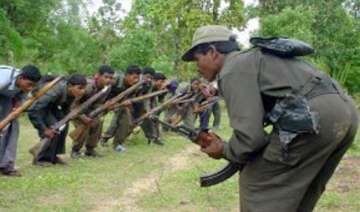 PTI
November 12, 2009 22:07 IST
The five-day conference of CPI(ML) on Thursday  concluded in Bhopal condemning the Centre's offensive in different parts of the country against Maoists. 
The conference alleged that UPA regime under a conspiracy was trying to crush people's uprising against the corrupt system in such areas. 
"The Centre has launched an offensive against mass uprising targetting the corrupt system in different parts of country, in the name of the Maoists bogey," CPI(ML) newly-elected general secretary K M Ramachandran told reporters, after the conference.
A resolution for the formation of an International Communist Forum to strengthen the communist movement was also passed at the conference, amid chants of "Naxalbari Zindabad". 
Ramachandran said that his party will launch a mass movement against the steep hike in the prices of essential commodities and a resolution to this effect was passed at the meet.
Besides this, Communist Party of India (Marxist-Leninist) general secretary said his party has resolved to oppose the US economic imperialism in the country, adding that the CPI (ML) will oppose it tooth and nail any foreign investments.
He said that the Centre should stop equating the "Maoists" with the people of Naxalbari movement given that it was a people's uprising against corrupt system. PTI