CPI flays Telangana CM for praising Nizam's rule
Warangal (Telangana): Communist Party of India (CPI) today criticised Telangana Chief Minister K Chandrasekhar Rao for praising Nizam's rule, saying many innocent people were killed during that period.  Party General Secretary Suravaram Sudhakar Reddy said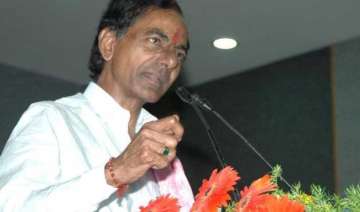 PTI
January 06, 2015 22:38 IST
Warangal (Telangana): Communist Party of India (CPI) today criticised Telangana Chief Minister K Chandrasekhar Rao for praising Nizam's rule, saying many innocent people were killed during that period.  
Party General Secretary Suravaram Sudhakar Reddy said Rao made the pro-Nizam remarks for political gains. Addressing a district-level party meeting at Jangoan town here, the CPI leader said a number of freedom fighters and innocent people were killed and women raped during the reign of Nizam rulers.
Given this backdrop how can the Chief Minister praise the Nizam era? he wondered and said it seems Rao has no knowledge of history of Telangana (once part of Hyderabad State).
Speaking at an event in Hyderabad last week, Rao said the rulers of erstwhile Hyderabad State set up hospitals and implemented irrigation projects, among other things.