Deadlock on seat-sharing in Bihar continues
New Delhi: Deadlock today continued on the issue of Congress alliance in Bihar for Lok Sabha polls with seat sharing with RJD coming under a strain and JD(U) ruling out any adjustment with the party."Unlike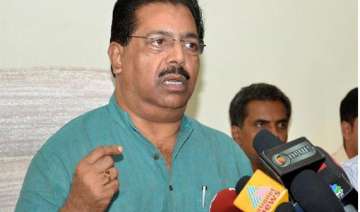 PTI
March 03, 2014 15:24 IST
New Delhi
: Deadlock today continued on the issue of Congress alliance in Bihar for Lok Sabha polls with seat sharing with RJD coming under a strain and JD(U) ruling out any adjustment with the party.
"Unlike BJP, Congress has many options even in Bihar," senior leader P C Chacko, who heads the AICC Scrutiny Committee for Bihar, said.
His remarks came a day after RJD supremo Lalu Prasad stuck to his offer of 11 Lok Sabha seats to Congress and one to NCP, and appealed to Sonia Gandhi to agree to the seat-sharing formula.
JD-U chief Sharad Yadav ruled out any seat adjustments with the Congress, maintaining that his party was in the front of 11 non-BJP, non-Congress parties.
"We have built a front of 11 parties. We will strengthen that and spoil the game of the Congress and the BJP", Yadav said, dismissing suggestions that there was a turmoil in his party on the issue of tie-ups.