Defence production should learn from rocket scientists: Manohar Parrikar
Panaji: India's defence production sector may have to follow the route Indian rocket scientists followed in order to boost indigenous production, according to Defence Minister Manohar Parrikar.Speaking at a function organised by the Indian Coast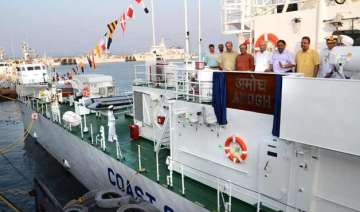 IANS
January 20, 2015 6:57 IST
Panaji: India's defence production sector may have to follow the route Indian rocket scientists followed in order to boost indigenous production, according to Defence Minister Manohar Parrikar.
Speaking at a function organised by the Indian Coast Guard, Parrikar on Monday said the sanctioned strength of vessels and aircraft for the Coast Guard may have to be beefed up considering the mammoth responsibility which the uniformed force was tasked with.
"Our rocket science improved itself and is probably around 80-85 percent indigenised. Maybe because we had to face the ban regime. After the nuclear test (Pokhran-2), India were slapped with a ban on many technologies. Our scientists took the challenge and developed rockets and today, we are at par with every nation in the world, developing most of the concepts on its own," Parrikar said during the programme held to officially launch two fast-patrol vessels and two interceptor boats at the port town of Vasco, 40 km from Panaji.
"I think that concept will have to be deployed with other production of defence requirements, because in defence, you cannot depend on an outside (foreign) agency to supply you when actually you need it," he said.
Parrikar said the Coast Guard vessels, which were launched, were around 45 percent indigenised and that engines and some electronic components were still being imported.
The defence minister said the Coast Guard was the "first protectors of the coast" and was tasked with protecting India's mammoth coastline as well as more than 20 million square km of the country's Exclusive Economic Zone and needed more ships and aircrafts for the job.
"I think we need to increase fleet level at the earliest to the sanctioned limit of 184 (vessels). Even that may not be adequate, because this is a very big country and has a very high interest in the Indian Ocean region," Parrikar said.
He said that in the last two years, the Coast Guard fleet strength increased by up to 35 percent.
The four vessels, which were dedicated to the Coast Guard, are fast patrol vessels ICG Amogh and ICG Amey and two interceptor boats - Charlie 413 and Charlie 414.