Angry supporters of BJP state president Satish Upadhyay protest outside party office
New Delhi: Dissent in Delhi unit of BJP is refusing to die down. First, it was over the CM candidature of Kiran Bedi. Now that the leadership issue has been resolved,ticket distribution has fulled fresh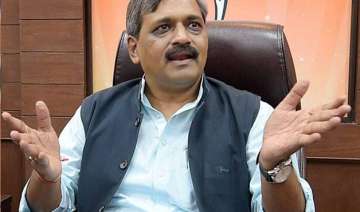 India TV News Desk
January 20, 2015 18:05 IST
New Delhi: Dissent in Delhi unit of BJP is refusing to die down. First, it was over the CM candidature of Kiran Bedi. Now that the leadership issue has been resolved,ticket distribution has fulled fresh bickerings in the party.
And this time, none other than the state BJP president Satish Upadhyay himself is at the centrestage of the controversy.  
Angry over denial of ticket to Upadhyay, his supporters today staged protest outside the party office.
They  raised slogans in Upadhyay's favour and demanded a ticket for him.
Upadhyay, on his part, appealed to his supporters to calm down and concentrate on ensuring victory of BJP in Assembly elections.
 
"I appeal to all my supporters to calm down and help party win Delhi elections," said Satish Upadhyay.
He also made it clear that he had never demanded a ticket.
"I never demanded a ticket, It was my personal decision to not contest election, not upset at all," said Upadhyay.
"I have always maintained that I want to contest on all 70 seats,have to ensure my party's success under Kiran (Bedi) ji's leadership," added Upadhyay.
Interestingly, another group of BJP workers raised slogans against Satish Upadhyay and BJP MP Ramesh Bidhuri. Some of them are reported to have even heckled Satish Upadhyay.