Delhi Assembly polls to be held on Feb 7, counting on Feb 10
New Delhi: Election Commission today announced the dates for Assembly elections in Delhi.The single phase election will be held on 7th February 2015 and the counting of votes will take place on 10th February.Making the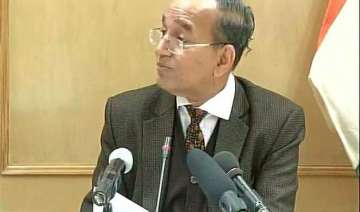 India TV News Desk
January 12, 2015 18:49 IST
New Delhi: Election Commission today announced the dates for Assembly elections in Delhi.
The single phase election will be held on 7th February 2015 and the counting of votes will take place on 10th February.
Making the announcement, Chief Election Commissioner V S Sampat  said that notification for Assembly elections will be issued on January 14.  Last date for filing nomination will be  January 21, scrutiny of nomination papers will be done on  22 Jan while the  last date for withdrawal of nomination will be January 24.
The entire election process will be completed by  12 Feb 2015.
Chief Election Commissioner V S Sampat said that with announcement of the dates, Model Code of Conduct has come into force with immediate effect, barring the government from taking major policy decisions that could influence the electorate.
1.30 crore voters in 70 constituencies will exercise their franchise in the polls.
Delhi elected a hung assembly in December 2013 after which the Aam Aadmi Party formed a minority government headed by Kejriwal with Congress backing. Kejriwal resigned Feb 14, 2014.
President's rule was imposed in the city Feb 17 last year.
The 2013 election ended 15 years of rule by the Congress, whose seats in the 70-member house plunged from 43 in 2008 to just eight. Its vote share also fell from 40 to 25 percent.
The Bharatiya Janata Party (BJP) emerged the single largest party with 31 seats followed by the AAP, which stunned everyone by bagging 28 seats in its debutant electoral battle.
With no single party in a position to form a government, the AAP took power with the outside legislative backing of the Congress. The Kejriwal government fell over lack of majority support.
In the May 2014 Lok Sabha election, the BJP won all seven seats in the capital. The AAP took the second spot everywhere while the Congress came third in six constituencies and fourth in the seventh.