Delhi: BJP Councilor slaps MCD Junior Engineer
New Delhi: A BJP Councillor today slapped an MCD Junior Engineer who had come to stop the unauthorized construction going on in Sangam Vihar area of Delhi.Neeraj Gupta, BJP Councillor from Ward no 188 of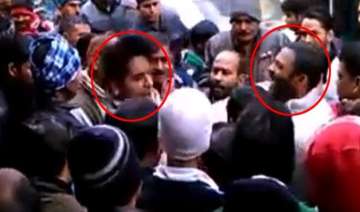 India TV News Desk
January 15, 2015 18:12 IST
New Delhi: A BJP Councillor today slapped an MCD Junior Engineer who had come to stop the unauthorized construction going on in Sangam Vihar area of Delhi.
Neeraj Gupta, BJP Councillor from Ward no 188 of Delhi, was trying to beat the MCD Junior Engineer  when some people intervened and tried to stop him. BJP councilor  was caught on camera and was also seen jostling the crowd.
Distancing the party from the councilor's behavious, BJP spokesperson Nalin Kohli said "As a principle, no one especially a public representative should resort to violence. We are not aware of specifications of the incident but no person or any public figure should slap anybody,"
Aam Aadmi Party did not lose time in hitting back at the BJP.
ALSO WATCH:
"What does BJP want? If they think they can win this election through violence, they are mistaken," said AAP leader Sanjay Singh.