Delhi BJP has formula to reduce power tariff by 30 pc: Vijay Goel
New Delhi, Aug 11: Delhi BJP  has said it will release a 10-point formula to reduce power tariff in its 'Bijli Rally' today and challenged Chief Minister Sheila Dikshit to implement it or else be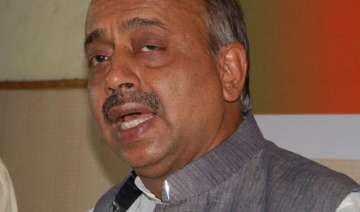 PTI
August 11, 2013 8:34 IST
New Delhi, Aug 11
: Delhi BJP  has said it will release a 10-point formula to reduce power tariff in its 'Bijli Rally' today and challenged Chief Minister Sheila Dikshit to implement it or else be perceived to be hand-in- glove with private discoms and DERC on power tariff hike.
The party said it will reveal the formula to reduce power tariffs by at least 30 per cent in Delhi during its 'Bijli Rally', organised to protest rising power tariffs in the city.
"If the Chief Minister does not implement this formula even after it comes in public domain, then it would simply imply that she is hand-in-glove with the private discoms and DERC in ensuring completely unjustified hike in power tariff," Delhi BJP Chief Vijay Goel told reporters.
"Our party is committed to bringing down power tariff by 30 per cent. Those who are questioning it should know that if you have the right kind of intention and political will, then this is not at all difficult," Goel said.
BJP national president Rajnath Singh, Leader of the Opposition in Lok Sabha Sushma Swaraj, her Rajya Sabha counterpart Arun Jaitley, Delhi election in-charge Nitin Gadkari and would also participate in the rally.
Besides, Delhi election co-incharge Navjot Singh Siddhu and Leader of the Opposition in Delhi Assembly Vijay Kumar Malhotra would also take part in the rally.
The party announced that it would implement a special package for lower income groups and people living in Jhuggi Jhopri clusters to provide them subsidised power with a fixed monthly bill.
Goel said, "Logically, after privatisation, had the government allowed more players into power distribution, power tariffs would have come down due to market competitiveness. But that just didn't happen. People of Delhi want to know why?"
He also said Delhi BJP will review the decision of Congress government and DERC to approve hike of 300 per cent in power tariff in coming days.
Goel said this would be done by reviewing the decision to allow Regulatory Assets (losses of private discoms to be charged from common people through tariff hike) worth at least Rs 19,500 crore.
"No private company would continue to run with such huge losses. So, why these discoms are still operating even after such huge losses? Why haven't they opted out of the power sector?"
"The fact of the matter is that these companies are actually making huge profits, they have been assured 16 per cent assured return. Their modus operandi is to take loan from banks on 10 per cent and get a return of 16 per cent on that investment," he alleged.
"The discoms should have been buying bulk power at cheaper rates but instead, they are buying expensive power from their own companies. These high prices are then passed on to consumers. There is no transparency in the power purchase agreement.
"DERC as well as Congress government is fully supporting this by not getting CAG audit done," he alleged.
"We would like to know why there has been no CAG audit of accounts of these private discoms? And without audit, how can Congress government and DERC approve and accept claims of these companies?" he said.
Goel also claimed that people were being duped by faulty electric metres at their homes which were over billing millions of consumers without their knowledge.
He said the discoms have monopoly, so no consumer could dare to complain or challenge them "as they would immediately cut off the power supply".
Individual consumers, with electricity being a basic necessity, continue to get robbed haplessly and find it difficult to challenge them individually, he said.
"Adding insult to injury of the common man, we have a Chief Minister who instead of controlling the power tariff hike, tells them: If you cannot pay electricity bills, do not use AC or Cooler, just use a tubelight or fan!", he said.