Delhi Election: Arvind Kejriwal asks why it shying away from debate
New Delhi: AAP chief Arvind Kejriwal today took a jibe at BJP for its plan to pose five questions to him, wondering why the party was attacking him hiding "behind a veil" and not accepting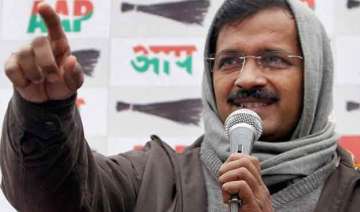 PTI
January 29, 2015 22:17 IST
New Delhi: AAP chief Arvind Kejriwal today took a jibe at BJP for its plan to pose five questions to him, wondering why the party was attacking him hiding "behind a veil" and not accepting his challenge for a public debate.  
"I have been asking them for a public debate for a long time now. Why they are asking question hiding behind a veil?  Come debate and answer the questions of the public. Why they are not ready?" the AAP chief retorted.  
Among the five questions posed by BJP to Kejriwal are why he took Congress support to form government last year after having promised not to do so and had also sworn by his children and why he did not fulfil his promise of instituting a case against former chief minister Sheila Dikshit and not make public documents pertaining to alleged corruption by her.  
Kejriwal once again claimed that several senior BJP leaders had come together to defeat Kiran Bedi in the upcoming polls. "Before Kiranji arrived in the scene they were fighting among themselves, now they have come together to defeat her," he said.
Kejriwal expressed "shock" on being asked to respond on the saffron party's decision to release a vision document instead of a manifesto, and said it shows the party had no agenda for Delhi.
"It's really shocking. Manifesto is a action point for governance. Not coming out with a manifesto shows they don't have an agenda for Delhi," he said.
Kejriwal, a one-time aide to Anna Hazare, also extended his "support" to the veteran activists plan to launch a fresh round of agitation against the Centre in spite of a "difference in opinion".
"I will support him in all his movements as long as he doesn't refuse my help. He considers politics to be dirty whereas I consider it imperative to join politics in order to clean it. That's the difference in opinion," he said.