Delhi Polls: Want an experienced govt or go for an experiment, Amit Shah asks Delhi voters
New Delhi:  BJP chief Amit Shah today asked the voters of Delhi to decide whether they want an experienced government led by his party or go for an experiment in the upcoming Assembly poll.Addressing two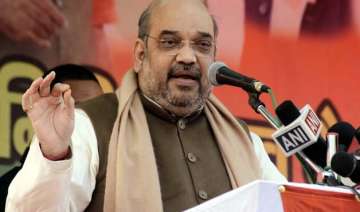 PTI
January 30, 2015 22:29 IST
New Delhi:  BJP chief Amit Shah today asked the voters of Delhi to decide whether they want an experienced government led by his party or go for an experiment in the upcoming Assembly poll.
Addressing two public rallies in Uttam Nagar and Janakpuri, he said BJP has a direct fight with Aam Aadmi Party, the foundation of which is based on "lies" and "misleading campaign".
"On one side, there is BJP which has been going forward with a ideology for 50 years and thereafter, it has come to power with full majority. BJP has now become a big political organisation of the county.
"But on the other side, there is such a party which had won seats, creating misleading campaign... Delhiites have to decide whether they want an experienced government or want to do experiment in this poll," Shah said.  During the rally, he made several people join the BJP by dialing party membership number and said that "he has rights on their votes".
Slamming AAP chief Arvind Kejriwal, he said that the party has been "exposed" this time, adding that BJP is asking the former chief minister five questions every day, but he doesn't answer.
"I want to say publicly that if there in morality inKejriwal, he should answer questions posed by BJP... and if he has guts, he should ask us questions and we are ready to answer them," he said.
The BJP president also listed the "lies" of Kejriwal, saying he used to say that he would not take support of either BJP or Congress, but what happened is known to everyone.  "Kejriwal did not resign for Lokpal, instead he had resigned to become PM of the country.
He would also say that if they (AAP) came to power, they would register an FIR against Sheila Dikshit in CWG scam, but after taking support of Congress, they could not do so," he said.  He also said that under the leadership of Prime Minister Narendra Modi, the respect for India has increased globally and Delhiites have to decide whether they want the party of Modi or the leadership of a man who "lies".  Shah claimed wherever BJP wins election, other political parties do not get chance to form government again.
"BJP has a record wherever it wins, other political party have not got chance to form government again. Once the people of Gujarat have elected BJP and thereafter, we have won five elections there. And the similar situation is in Chhattisgarh, Rajasthan, Madhya Pradesh where we are continuously winning
elections," he also said. (PTI)