Delhi polls: AAP members who joined BJP to face former colleagues on four seats
New Delhi: The forthcoming Delhi Assembly polls will witness four AAP members, now in BJP, contesting against their former AAP colleagues.All four – Vinod Kumar Binny, Speaker M S Dhir, Ashok Chauhan and Shakeel Anjum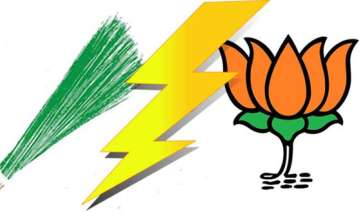 India TV News Desk
January 21, 2015 14:45 IST
New Delhi: The forthcoming Delhi Assembly polls will witness four AAP members, now in BJP, contesting against their former AAP colleagues.
All four – Vinod Kumar Binny, Speaker M S Dhir, Ashok Chauhan and Shakeel Anjum Dehlvi – who were denied tickets by AAP have been fielded by BJP in various constituencies.
Vinod Kumar Binny, the former Lakshmi Nagar MLA, will contest from Patparganj while speaker M S Dhir will contest from his previous seat of Jangpura only. Ashok Chauhan, MLA from Ambedkar Nagar will contest from the same constituency and Shakeel Anjum Dehlvi will stand from Matia Mahal seat, from which he stood third in 2013 elections.
Unhappy over not finding a place in Kejriwal cabinet,  Vinod Kumar Binny had resigned last year after criticizing AAP chief publicly. He wanted to contest against Kejriwal only but was denied the same and is now contesting from Patparganj seat.
He will be contesting against another Gujjar Anil Kumar from Congress and his former senior AAP colleague Manish Sisodia.
Sisodia being a Brahmin and other two Gujjar, so it is being speculated that Binny might just end up dividing the Gujjar votes in the area and fall prey to fights within the party.
M S Dhir, who was denied ticket by AAP for not performing well last year stands a good chance from Jangpura. He will contest against Congress candidate Tavinder Singh Marwah who being a Punjabi is expected to present a formidable challenge for Dhir.
From AAP, it is Praveen Deshmukh who can give Dhir a tough time as being a non-punjabi he can gain a good number of votes from minorities and slums.
In Ambedkar Nagar, Ashok Chauhan will have to stand against Congress' Chaudhary Prem Singh and AAP's Ajay Dutt. This constituency had been a congress bastion for long which further went on to AAP hence Chauhan is expected to face tough competition here.
Lastly, Shakeel Anjum Dehlvi, who joined BJP last week, is expecting a comfortable win from his Matia Mahal seat. He'll be facing Shoaib Iqbal of Congress and Asim Ahmed Khan of AAP.