Delhi polls: All is not well within Aam Aadmi Party
New Delhi: It seems all is not well within Arvind Kejriwal-led Aam Aadmi Party (AAP).When Shazia Ilmi, one of the founder members of AAP, crossed over to BJP, Kejriwal's party refused to consider it a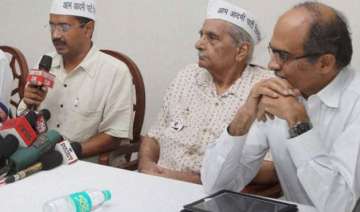 Raj Singh
January 23, 2015 20:05 IST
New Delhi: It seems all is not well within Arvind Kejriwal-led Aam Aadmi Party (AAP).
When Shazia Ilmi, one of the founder members of AAP, crossed over to BJP, Kejriwal's party refused to consider it a setback saying it was a result of her frustration as she could not win two consecutive elections.
But the real shocker came from another founder member Shanti Bhushan who is also the largest donor of the year old party.
Shanti Bhushan not only praised BJP's CM Candidate Kiran Bedi but even went to the extent of saying that she would make a much better chief minister compared to Arvind Kejriwal.
"She would make a much better chief minister because there is so much being said against Arvind," said Shanti Bhushan.
ShantiShnati Bhushan also asked Kejriwal to step down as AAP convener.
"Arvind only wants winnability. He must step down as AAP convener because the idea of AAP is bigger than Kejriwal," said Prashant Bhushan.
"The AAP national executive will meet after February 10 to elect a new convener," added Bhushan.
If AAP sources are to be believed, Shanti Bhushan is miffed with AAP for a number of reasons. First, he is unhappy with Kejriwal's alleged autocratic functioning and second, he has serious objections over at least 17 candidates that AAP has fielded in the ongoing Assembly elections.
Even his son Prashant Bhushan is said to be unhappy over the ticket distribution and this is why he has refused to campaign for the party in these elections.
Kumar Vishwas, another founder member and a close confidante of Arvind Kejriwal, is also unhappy with candidate selection. For this reason, Kumar has refused to campaign extensively for the party in these elections.  According to AAP sources, he will campaign for 4 days only.
The internal dissension does not augur well for AAP as Delhi elections is a do-or-die battle for the party. AAP is facing stiff challenge from Delhi unit of the BJP which is feeling recharged after the saffron party named Kiran Bedi as its CM candidate. The BJP leaders are  slowly putting their acts together after the initial heartburn over Bedi's CM candidature started cooling down.  
If Arvind Kejriwal fails to stem the internal dissension then there is a real danger of disgruntled elements spoiling the game for AAP.