Delhi Polls: BJP fields Nupur Sharma against Arvind Kejriwal
New Delhi:  The BJP Monday fielded a young party member, Nupur Sharma, to take on Aam Aadmi Party leader Arvind Kejriwal in New Delhi seat and declared former Congress leader Krishna Tirath as its nominee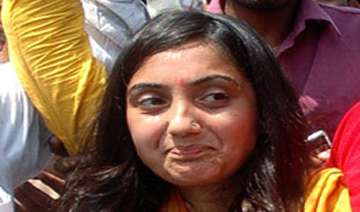 IANS
January 20, 2015 7:51 IST
New Delhi:  The BJP Monday fielded a young party member, Nupur Sharma, to take on Aam Aadmi Party leader Arvind Kejriwal in New Delhi seat and declared former Congress leader Krishna Tirath as its nominee from Patel Nagar in its first list of 62 candidates for the Delhi assembly polls.
The list was declared after a meeting of party's central election committee and parliamentary board.
The list includes former union minister and Congress leader Tirath from Patel Nagar. Tirath got the BJP ticket on the day she declared her association with the party, creating a record of sorts.
Vinod Kumar Binny, a former AAP MLA, will contest from Patparganj. He joined the BJP Sunday.
Bharatiya Janata Party's chief ministerial candidate Kiran Bedi, a former IPS officer, has been fielded from Krishna Nagar, a "traditional" seat of the party. Bedi joined the BJP Jan 15.