Delhi Polls: BJP workers accuse party of ignoring Poorvanchali voters
New Delhi:  A section of BJP workers from Poorvanchal today accused the party of ignoring of the Poorvanchali voters in the city by giving ticket to just one candidate from the community for the February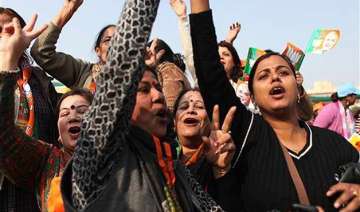 PTI
January 21, 2015 7:54 IST
New Delhi:  A section of BJP workers from Poorvanchal today accused the party of ignoring of the Poorvanchali voters in the city by giving ticket to just one candidate from the community for the February 7 Delhi Assembly polls.
Declaring announcement of tickets 'too late, too little', a section of BJP workers blamed ignoring of Poorvanchali voters in the city, saying that despite having more than 60 lakh Poorvanchali votes across the Capital, the party has fielded just one person.
"It is very unfortunate that the party wants support from the people of Uttar Pradesh, Bihar and Uttrakhand without ensuring their proper representation.
 
Last time, they had fielded six Poorvanchalis but this time only one Burari seat has been given," said Rajiv Tiwari, a Poorvanchali leader.  Tiwari also said that shockingly, representation of Punjabis and Uttrakhandis have been "ignored" despite they having large population.