Delhi Polls: Prime minister Modi to address 4-5 rallies
New Delhi: Prime Minister Narendra Modi will address four or five rallies in Delhi between Jan 29 and Feb 4 -- ahead of the Feb 7 assembly election, Delhi Bharatiya Janata Party (BJP) president Satish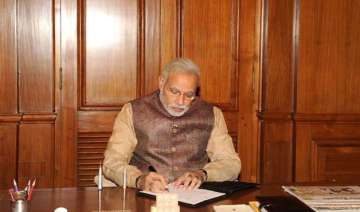 IANS
January 23, 2015 16:04 IST
New Delhi: Prime Minister Narendra Modi will address four or five rallies in Delhi between Jan 29 and Feb 4 -- ahead of the Feb 7 assembly election, Delhi Bharatiya Janata Party (BJP) president Satish Upadhyay said Friday.
"Modi-ji has a busy schedule but we sought his time and he will be addressing four or five rallies in Delhi," Upadhyay told reporters here.
Upadhyay said the time and venue of the rallies have not been decided yet.
The Delhi BJP chief said the party will release its manifesto for the Delhi assembly polls after Jan 26. "It may come out on Jan 27 or 28," he said.
Delhi is to elect a 70-member assembly on Feb 7.