Delhi polls: Ready for debate with Bedi & Kejriwal, says Ajay Maken
New Delhi: Congress leader Ajay Maken on Wednesday agreed to have a public debate with AAP leader Arvind Kejriwal and BJP's chief ministerial candidate Kiran Bedi ahead of Delhi's assembly election."Let's debate and face questions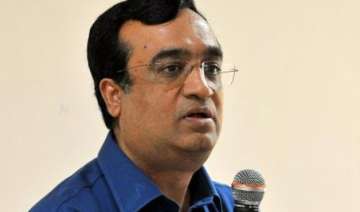 IANS
January 21, 2015 14:31 IST
New Delhi: Congress leader Ajay Maken on Wednesday agreed to have a public debate with AAP leader Arvind Kejriwal and BJP's chief ministerial candidate Kiran Bedi ahead of Delhi's assembly election.
"Let's debate and face questions on how to fix the problem of power shortage in Delhi... How to fix water and transportation problems and corruption," Maken said in his Sadar Bazar constituency.
"I challenge them all. After listening to our debate, let the people vote for the candidate whose vision they like the most," he added.
The statement comes a day after former chief minister Kejriwal invited Bedi and Maken for a public debate.
The elections for the 70-member Delhi Assembly will be held in a single phase on February 7, with the counting of votes set to take place on February 10.