Delhi Polls: 10 Key Constituencies to watch out for
New Delhi: February 7 is going to be the D-Day for Delhi politicians, including former IPS officer and BJP's Chief Ministerial candidate Kiran Bedi.Will Delhi vote for Aam Aadmi Party supremo Arvind Kejriwal who is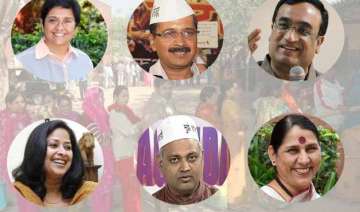 India TV News Desk
February 06, 2015 13:16 IST
New Delhi: February 7 is going to be the D-Day for Delhi politicians, including former IPS officer and BJP's Chief Ministerial candidate Kiran Bedi.
Will Delhi vote for Aam Aadmi Party supremo Arvind Kejriwal who is also the party's CM candidate? Will the AAP better its stunning debut performance a year ago?
Or, will the Bharatiya Janata Party (BJP) succeed in registering yet another victory after back-to-back electoral wins, first at the Centre and then in a series of state assembly elections?
All these questions will be answered on February 10 only, the counting day.
Prime Minister Narendra Modi, Congress president Sonia Gandhi, Rahul Gandhi and scores of other leaders are slated to hold a number of rallies in the state capital.

Let's have a look at the key constituencies and leaders on whom all eyes are focused:
1. Krishna Nagar: Traditionally this has been a BJP bastion and when Kiran Bedi took a plunge into politics, the party decided to give her a safe seat. And thanks to a faithful RSS-BJP cadre in the constituency, it was allocated to her. Congress' Bansi Lal and AAP's SK Bagga, are pitched against her.

2. New Delhi: The "mufflerman" Arvind Kejriwal is once again contesting from the New Delhi assembly constituency. He is likely to face major competition from Congress' Kiran Walia, whereas BJP has fielded former DUSU president Nupur Sharma.

3. Greater Kailash: This constituency is all over the news, thanks to its Congress candidate, Sharmistha Mukherjee, daughter of President Pranab Mukherjee. She is likely to face a tough challenge from AAP's Saurabh Bharadwaj. Rakesh Gulia is the BJP candidate  in this constituency.

4. Sadar Bazar: A Congress bastion for a long time, until it fell to the AAP in 2013, Ajay Maken is hoping to enter the Delhi assembly from this seat. He faces AAP's Som Dutt Sharma and BJP's Praveen Jain in these elections.

5. Malviya Nagar: There is a likelihood of a direct contest between AAP's Somnath Bharti and Congress's Yoganand Shastri in this south Delhi constituency. Both Bharti and Shastri were former ministers in their parties' previous stints in power.

6.Patparganj: It became a high-profile constituency after it was won by Manish Sisodia in 2013 Assembly elections. He is facing challenge this time  from BJP's candidate and a former AAP MLA Vinod Kumar Binny.  Congress has fielded Anil Kumar from this constituency.

7. Patel Nagar: This reserved constituency is in news because of Krishna Tirath. A former union minister, she crossed over to BJP from Congress a few days back. She faces AAP's Hazari Lal Chauhan and Congress's Rajesh Lilothia, a former MLA.

8. Trilokpuri: This constituency is witnessing triangular contest between AAP's Raju Dhingan, BJP's Kiran Vaidya and Congress's Brahma Pal.

9. Janakpuri: Heavyweight BJP candidate Jagdish Mukhi, who has won the seat 7 consecutive times, will face challenge from his son-in-law Suresh Kumar, contesting on a Congress ticket. Though things are not sour within Mukhi's family, political temperature has soared on the streets of  Janakpuri Assembly constituency.

10. Dwarka: Former MP from west Delhi, Mahabal Mishra of the Congress makes his way back into Delhi's politics by contesting from his backyard of Dwarka. He will face stiff competition from AAP's Adarsh Shastri, grandson of former PM Lal Bahadur Shastri.