Delhi Polls:'Aam Aadmi' and 'Garib Aadmi' parties have got crorepati candidates
New Delhi:  The candidates who are contesting Delhi Assembly elections may say that they are representatives of common man or Aam Aadmi but when it comes to their assets or properties,  it shows a vast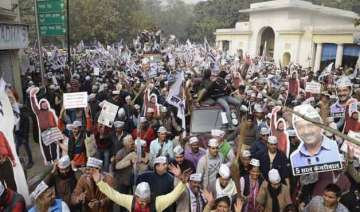 India TV News Desk
January 21, 2015 14:43 IST
New Delhi:  The candidates who are contesting Delhi Assembly elections may say that they are representatives of common man or Aam Aadmi but when it comes to their assets or properties,  it shows a vast gap with the reality.
Candidates from parties like Aam Aadmi Party (AAP), Gareeb Aadmi Party (GAP), Garib Raj Party (GRP) have mentioned assets worth crores in their affidavits submitted to the Election Commission.
Harpal Singh Kundalia, a GAP contestant from Shahdra, has assets worth Rs 2.46 crore. Similarly, another Gareeb Aadmi candidate, Shyam Bharteey, who's contesting from Uttam Nagar has declared assets worth Rs 1.96 crore.Aam Aadmi Party which has been championing the cause of common man in the capital has also given tickets to two contestants who have assets worth more than seven crore.
They are Fateh Singh from Gokalpur constituency and S K Bagga and from Krishna Nagar. Manish Sisodia, senior party member contesting from Patparganj, has declared assets worth Rs 41.56 lakh.
The crorepati club also includes contestants from other parties as well. A K Walia of Congress has assets of Rs 18.28 crore who is contesting from the Laxmi Nagar seat. Surendra Kumar of BSP who's filed nomination from Gokalpur seat has property worth Rs 3.79 crore along with his family. Another contestant Rakesh contesting on Gareeb Aadmi Party ticket has assets worth Rs 2.28 crore.
But on the other side of the story there are contestants who are very simple and modest. Manoj Kumar of Garib Raj Party, who filed candidature from Gokalpur, is with his spouse and children worth Rs 70,500. Prahlad Kumar Gupta, of another little-known Hindusthan Nirman Dal, is worth Rs 67,000. He's contesting from Karawal Nagar.