Didn't talk about return of non-Telangana employees: TRS
Hyderabad, Aug 5: A case for promoting enmity was registered against Telangana Rashtra Samiti (TRS) president K Chandrasekhar Rao yesterday for his alleged remarks that state government employees from Rayalaseema and coastal Andhra working in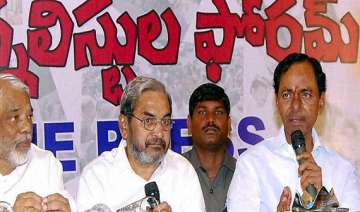 PTI
August 05, 2013 7:06 IST
Hyderabad, Aug 5
: A case for promoting enmity was registered against Telangana Rashtra Samiti (TRS) president K Chandrasekhar Rao yesterday for his alleged remarks that state government employees from Rayalaseema and coastal Andhra working in Telangana should go back to their respective regions.
"A case under sections 153A and 506 of Indian Penal Code has been filed against K Chandrasekhar Rao in Three Town police station here this evening," Sub-Inspector U Laxminarayana said.
Section 153A pertains to promoting enmity between different groups on grounds of religion, race, place of birth, residence, language, etc., and doing acts prejudicial to maintenance of harmony and section 506 to punishment for criminal intimidation.
The complaint was lodged against KCR by the East and West Godavari Bar Association Lawyers Joint Action Committee (JAC) led by its convener Muppala Subba Rao for the former's alleged remarks about non-Telangana region employees working in Hyderabad.
However, what appears to be a climbdown after his remarks caused furore, the TRS chief yesterday denied having made any such comments.
"Who asked you to go? You will do your administration. You run (administration) for 10 years (as said by Congress). You retire here and buy a flat and be here. We have no objection. We never curse people. We only curse people who curse people," he said while addressing a meet the press programme organised by the Telangana Journalists Forum here.
Subba Rao had alleged that KCR's remarks were unbecoming at the time when formation of Telangana is underway.
"When formation of Telangana is in the process such remarks will create doubts about employees (from non-Telangana regions)...Such remarks sow differences between employees from Telangana and non-Telangana regions," he had said.
The lawyers JAC also submitted compact discs and newspaper clippings published about the alleged remarks made by Rao on August 2.
The Andhra Pradesh Non-Gazetted employees who met in Vijayawada yesterday announced a flash strike in the wake of the reported comments of the TRS chief.