Digvijay Singh takes a dig at Modi, asks if he would take Obama's advice
New Delhi: Digvijay Singh, General Secretary of All India Congress Committee, while terming US president Barack Obama's speech at Siri Fort Tuesday as brilliant, took a dig at Prime Minister Narendra Modi asking him if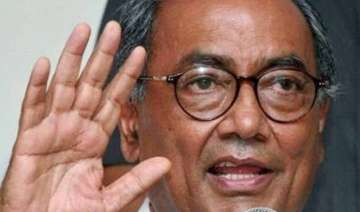 India TV News Desk
January 27, 2015 15:40 IST
New Delhi: Digvijay Singh, General Secretary of All India Congress Committee, while terming US president Barack Obama's speech at Siri Fort Tuesday as brilliant, took a dig at Prime Minister Narendra Modi asking him if he would refrain VHP from communalizing the atmosphere.
In his speech, Obama has said every person has the right to practice his faith without any persecution and that India will succeed so long it is not "splintered" on religious lines.   
On this, Digvijay Singh took to social media and tweeted, "Thank you Mr President Barack Obama for speaking up for the Indian Citizen's Rights to profess practice and propagate his Religious Belief."
Through his tweet he further asked would Modi take his friend Barack's advice and ask his friends in VHP to shut up and request Mohan Bhagwat to stop justifying Ghar Vapsi.
He further tweeted, Obama reminds us of Article 25 of Indian Constitution of the Right of every Citizen of India to progress practice and propagate his Religion.
Earlier Singh had at Indore Press on Monday accused the BJP-led NDA government of making "U-turns" on a number of issues including the nuclear deal between India and US.
"During Congress-led UPA regime, the BJP leaders termed the bill on Civil Nuclear deal between India and US as against the interest of the country. On the basis of BJP's suggestions amendments were also made in its sub-clause. Despite that BJP opposed the Bill and tried to topple the UPA government," he told reporters at Indore Press Club yesterday.

"Now the BJP's majority government has agreed to implement the same liability sub-clause related to nuclear deal.