DMK backstabbed Tamil Nadu on food bill: Jayalalithaa
Chennai: Tamil Nadu Chief Minister J. Jayalalithaa Saturday charged DMK president M. Karunanidhi of playing a dual role by supporting the Food Security Bill in the Lok Sabha and said the party "backstabbed the people".Referring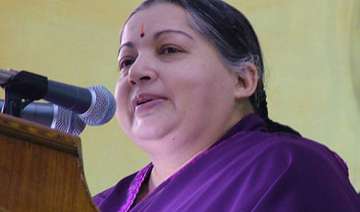 IANS
August 31, 2013 17:27 IST
Chennai:
Tamil Nadu Chief Minister J. Jayalalithaa Saturday charged DMK president M. Karunanidhi of playing a dual role by supporting the Food Security Bill in the Lok Sabha and said the party "backstabbed the people".
Referring to Karunanidhi's statement that his party will not support the bill if it was moved without changes, Jayalalithaa said: "The DMK by supporting the bill, which does not specify the price at which rice will be supplied to the state or the state government's responsibility to source rice during deficit period, has backstabbed the people."
She said the people of Tamil Nadu "will teach Karunanidhi a good lesson" for his act.
Jayalalithaa said the DMK chief has been acting against the interests of the state on issues like the Sri Lankan Tamils, transfer of Katchatheevu islet to Lanka, problems faced by Tamil Nadu fishermen, sharing of Cauvery river water and the Mullaperiyar Dam among others.