DMK chief slams BJP over re-promulgation of Land Acquisition ordinance
Chennai: After the Centre re-promulgated the Land Acquisition ordinance, DMK chief Karunanidhi yesterday asked why the BJP was being adamant on the issue despite "nation-wide opposition" to it."Despite opposition from opposition parties and farmers across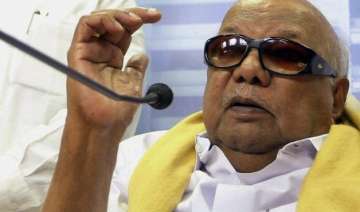 PTI
April 04, 2015 7:46 IST
Chennai: After the Centre re-promulgated the Land Acquisition ordinance, DMK chief Karunanidhi yesterday asked why the BJP was being adamant on the issue despite "nation-wide opposition" to it.
"Despite opposition from opposition parties and farmers across the country, it is not known as to why the BJP is showing adamancy on the Land Acquisition Bill," Karunanidhi said in a statement here.
"Prime Minister Narendra Modi's view that they will not go back on the Land Bill is not the correct decision, this is my opinion," he added.
He said the BJP will "get a good name from the people only if it did not proceed further on this issue" which is opposed by both farmers and opposition.
Against the backdrop of some outfits announcing a "mangalsutra (thaali) removal programme," he said the choice to wear or not wear thaali was an individual right based on their wishes and faith.
On the opposition to a proposed manufacturing plant of Coca Cola in Erode District of Tamil Nadu, he claimed the state had allocated land to a firm for which other state governments had denied approval.
The government has allocated land for Coca Cola in SIPCOT complex at Perunthurai in Erode District. However, it has not given environment clearance.