DMK General Secretary Anbazhagan hospitalised
Chennai: DMK General Secretary K Anbazhagan has been hospitalised following health issues and is responding well to treatment, a top party leader said today."He was admitted to a private hospital yesterday following age-related ailments. He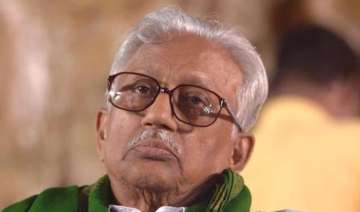 PTI
April 08, 2015 17:11 IST
Chennai: DMK General Secretary K Anbazhagan has been hospitalised following health issues and is responding well to treatment, a top party leader said today.
"He was admitted to a private hospital yesterday following age-related ailments. He is responding well to the treatment and is stable," the leader told PTI.  Senior DMK leaders, including M K Stalin called on the ailing nonagenarian in the hospital.
The 93-year-old leader, a follower and peer of DMK founder and Dravidian ideologue C N Annadurai, was a former state Finance Minister.