DMK to play role in secular government: Karunanidhi
Chennai: DMK president M. Karunanidhi Monday released the names of the party's candidates for 35 Lok Sabha constituencies, and said he and his party would like to see a secular government at the centre."I and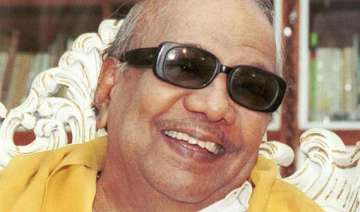 IANS
March 10, 2014 18:48 IST
Chennai: DMK president M. Karunanidhi Monday released the names of the party's candidates for 35 Lok Sabha constituencies, and said he and his party would like to see a secular government at the centre.

"I and the DMK would like to have a secular government at the centre," he told reporters.

Stating that the DMK would play a role in any secular front formed in a democratic way, Karunanidhi said the two communist parties - the Communist Party of India-Marxist (CPI-M) and the CPI - have not approached his party for an alliance.

The two communist parties recently announced their exit from the alliance with the ruling AIADMK in Tamil Nadu.

The DMK has fielded eight of its sitting Lok Sabha members while the others are new.