Don't sign ordinances, CPI-M tells president
New Delhi: The CPI-M Sunday urged President Pranab Mukherjee not to approve a clutch of bills which it said the cabinet might turn into ordinances for politically vested reasons."The union cabinet is considering a clutch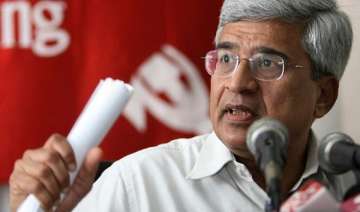 IANS
March 02, 2014 14:44 IST
New Delhi:
The CPI-M Sunday urged President Pranab Mukherjee not to approve a clutch of bills which it said the cabinet might turn into ordinances for politically vested reasons.
"The union cabinet is considering a clutch of bills which were not taken up in parliament during the recently concluded session," CPI-M general secretary Prakash Karat said in a letter to Mukherjee.
He said the cabinet may also propose some amendments in the Andhra Pradesh Reorganisation Act, which the president has already approved to form a state called Telangana out of Andhra Pradesh.
"If this is true, it is a shocking step which is unconstitutional and makes a mockery of parliament," Karat said.
"It will also be establishing a dangerous precedent as the creation of a new state is a serious issue and cannot be a plaything for narrow political interests.