Don't want to fight with centre, says Kejriwal
New Delhi: Delhi Chief Minister Arvind Kejriwal on Tuesday said the Aam Aadmi Party government was not at odds with the central government and had no intention to fight with it.However, he complained that Delhi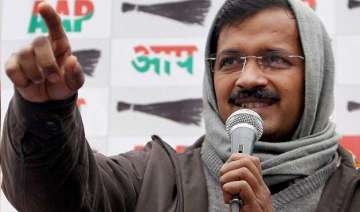 IANS
April 07, 2015 23:04 IST
New Delhi: Delhi Chief Minister Arvind Kejriwal on Tuesday said the Aam Aadmi Party government was not at odds with the central government and had no intention to fight with it.
However, he complained that Delhi does not get enough money in terms of taxes despite contributing a huge sum to the central treasury.
"Delhi contributes Rs.65,000 crore through the taxes collected by the centre in the form of income and service taxes. But in return, it gets only Rs.325 crore, which is wrong," he said at the Confederation of Indian Industry' (CII) national conference, noting the city-state could contribute more if it was given a greater share.
"If the centre gives us a greater share, we will contribute more and take this Rs.65,000 crore to Rs.80,000 crore to Rs.1 lakh crore. This will increase economic activity in the city," Kejriwal added.
"We are not at loggerheads. We don't want to fight with anyone. The Constitution has given responsibilities to everyone. So, there will be a difference of opinion, which will be sorted out," he said.
Kejriwal also sought the support of the private sector in making Delhi a modern city, saying it could help to generate employment in the city.
"The country is looking up to our government, we want to work and achieve landmarks. We want to have a Delhi, a new and better Delhi not only for the rich but for the poor also.
"It's our dream and it can be achieved, but not alone. I invite you all to join hands with us to make it happen," he added.