'Evolving situation' in J-K; exploring govt formation with NC, PDP : BJP
New Delhi: Even as Jammu and Kashmir came under Governor's rule, BJP today said it was an "evolving situation" in the state and that the party was in talks with both PDP and NC as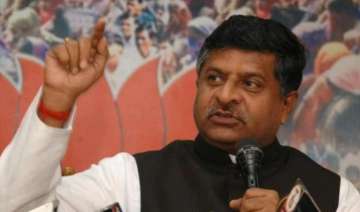 PTI
January 09, 2015 18:24 IST
New Delhi: Even as Jammu and Kashmir came under Governor's rule, BJP today said it was an "evolving situation" in the state and that the party was in talks with both PDP and NC as it would like to form the government there. Governor's rule in J-K was imposed owing to constitutional limitation of time and reluctance of caretaker Chief Minister Omar Abdullah to continue as such, the party said while noting that governance cannot close down owing to such a scenario.
Asked for his views, Union Minister and senior BJP leader Ravi Shankar Prasad said here that "it is an evolving situation" in J-K and he cannot make any off-the-cuff remark in that regard.
As to the imposition of Governor's rule, Prasad said, "There is a constitutional limitation of time (Jan. 19 in this case) and the reluctance of Abdullah to continue as caretaker chief minister.
"These are logistical issues which have to be taken into account because, pending the evolution of a stable government ... you cannot completely close down governance." Speaking in Hyderabad today, BJP President Amit Shah said, "Our talks are going on with the two parties (NC; PDP) in Kashmir. We will let you know once there is any development.
 We are trying to form a BJP government in the state." Prasad added here that BJP wants a stable government in J-K and discussions are ongoing for that.  BJP spokesperson Sambit Patra, meanwhile, said that the mandate that the parties have got in J-K is such that no one can form a government as of now.
"Democratically, talks are on. In such a scenario... see to it that governance does not suffer in J-K and legitimate steps are taken," he said.
Governor's rule was imposed in J-K after no political party managed a majority in the 87-member Assembly and Abdullah requested to be relieved of the post of caretaker chief minister.
Governor's rule was imposed in the state under Section 92 of the J-K Constitution.