Ex-minister Nandi, Mayor wife expelled from BSP
Allahabad: Nand Gopal Gupta "Nandi", a cabinet minister in the previous Mayawati government, and his mayor wife Abhilasha have been expelled from the Bahujan Samaj Party for alleged anti-party activities.The announcement, which comes just ahead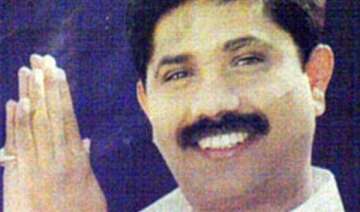 PTI
March 11, 2014 16:59 IST
Allahabad:
Nand Gopal Gupta "Nandi", a cabinet minister in the previous Mayawati government, and his mayor wife Abhilasha have been expelled from the Bahujan Samaj Party for alleged anti-party activities.
The announcement, which comes just ahead of the Lok Sabha polls, was made here by the party's zonal coordinator Vijay Pratap who claimed that the couple "failed to pay heed to repeated warnings about abiding by the party discipline".  
However, the couple claimed that the action was taken "at the behest of Keshri Devi Patel", a former Zila Panchayat Chairperson who is the BSP's likely candidate from Allahabad Lok Sabha constituency".
"Patel has been systematically conspiring against all those whom she considered a threat to herself.
She has been responsible for the sacking of many dedicated party workers.  Now we are at the receiving end," the Guptas said adding that they "still have great respect for party supremo Mayawati who appears to have been misled by her colleagues".