Face poll confidently: Sonia to Congress MPs
New Delhi: Congress President Sonia Gandhi today asked party MPs to go to the Lok Sabha polls with confidence as she hosted a dinner for them here.  Sources said at least 100 MPs talked to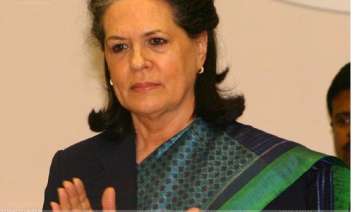 PTI
March 04, 2014 14:55 IST
New Delhi:
Congress President Sonia Gandhi today asked party MPs to go to the Lok Sabha polls with confidence as she hosted a dinner for them here.  
Sources said at least 100 MPs talked to Gandhi during the dinner hosted at Gandhi's official residence at 10, Janpath.  
They were served both South Indian and North Indian delicacies.
Due to hectic engagements with Telangana issue, Gandhi was unable to have an interaction with party MPs as there was no valedictory dinner meeting of the parliamentary party during the just-concluded winter session of parliament, the last of the 15th Lok Sabha.
It was, therefore, a kind of farewell meeting with Lok Sabha MPs as Sonia Gandhi and Rahul Gandhi walked up to the dinner tables of MPs and chatted with them.